I'm Paula, 29 years old, transgender, slim figure, small titties but a nice cock. Today i'm going into town to do some shopping. Thrift shops, in and out, also look at the clothes. I'm super horny and decided not to put on any panties. See what happens. I'm wearing a short skirt, white tight shirt with a nice denim jacket over it. Not much makeup, a little bit of eye pencil and a red/pink lipstick. Not too heavily made up, but playful and elegant. My hair is loose. From the moment I came in, a man was already looking at me. He was about 60 years old, beautiful white-gray hair, tall, a little bit firm. In short, the type I fall for. Photo is of Brazilian transgirl Paloma, she has many more photos. And of course the live chat, she can become yours.
---
Anyway… I already saw him looking…fine…do a lot of them…but the way of looking I recognize well…. His eyes scan me. I walk past him, say good afternoon and give him a sweet smile. Just after I walk past him, I stop at a shelf with cute figurines. I like Indian statues, and there is a shelf full of them. I bend down to take a closer look, and I make sure my butt is sticking back nicely. I make a hollow back, because it has to look sexy, of course.
I look very quickly to my right and see the man startled and quickly turn his head the other way. So he is watching me. I look a little further into the shelves and move my ass a little. I stand up straight again for a moment and slide my skirt up a little so that my right buttock comes out slightly from under it. Again I look quickly to my right. He wants to turn his head again, but he can't manage it hi, hi…. I give him another smile and continue. I squat, because I have to reach the bottom shelf, right? Because I squat, my skirt creeps up slightly. I am now slightly squatting with my back to him. I feel that my bottom is 20% visible and I also feel how my swollen cock has freedom and dangles nicely exposed. I know he can now see my balls and cock between my bottoms.
I am curious. Maybe he's freaked out and left. I get up and pull my skirt down a little. I turn around. He is still standing there and I see him swallow and look at me. Mmm….now I give a wink. I walk away, spinning my ass and turn my head a little more to see what he is doing. Yup, he's going after me. In the store, I walk to the clothing corner at the very back of the store. I grab a shirt and pants off the rack and enter a makeshift fitting room, but I leave the shabby little curtain open for a bit. I look and see the man from a distance looking straight into the fitting room. That makes me so horny. Quietly, I take off my denim jacket and pull my shirt over my head. My small breasts are poking out. My little nipples are hard. I stand with my bare back to him. Very slowly, I turn around so he can see my tits. Look, please. I raise my eyes to him and I see him squinting. What I also see is him rubbing himself on his crotch and squeezing his cock for a moment.
I'm challenging him and he get so horny!
I pretend to try on the shirt, but that makes no sense because it's so ugly and way too big. I put it away again. Shall I put on my own shirt again? But am so horny by now, that I don't think long and undo my belt and lower my skirt. That way he sees how my hard cock shoots up as my skirt goes over it. I drop the skirt and stand stark naked in that fitting room. I see some people coming and quickly pull the curtain closed. The moment they have passed, I open it a bit. My naked body and my erect cock are fully visible to the man. He keeps looking at me now and his eyes go up and down. Then he looks at me again, then at my titties my belly and he stares at my cock. I squeeze my nipples nicely between my thumb and forefinger. My legs crossed slightly, my cock forward, and I smile a little. Laugh a little and give him a wink.
My other hand holds my cock and I pull on it very slowly. Just so he can get a good look at my shiny naked glans. I grab the little chair that is in the fitting room and set it down in front of the open piece of curtain. I sit back and pull my legs up so that my heels are on the chair. So…just look horny…just look at my cock and ass…. Just look how nice it looks. I run my index finger along my balls and from there to my asshole and rub it slightly.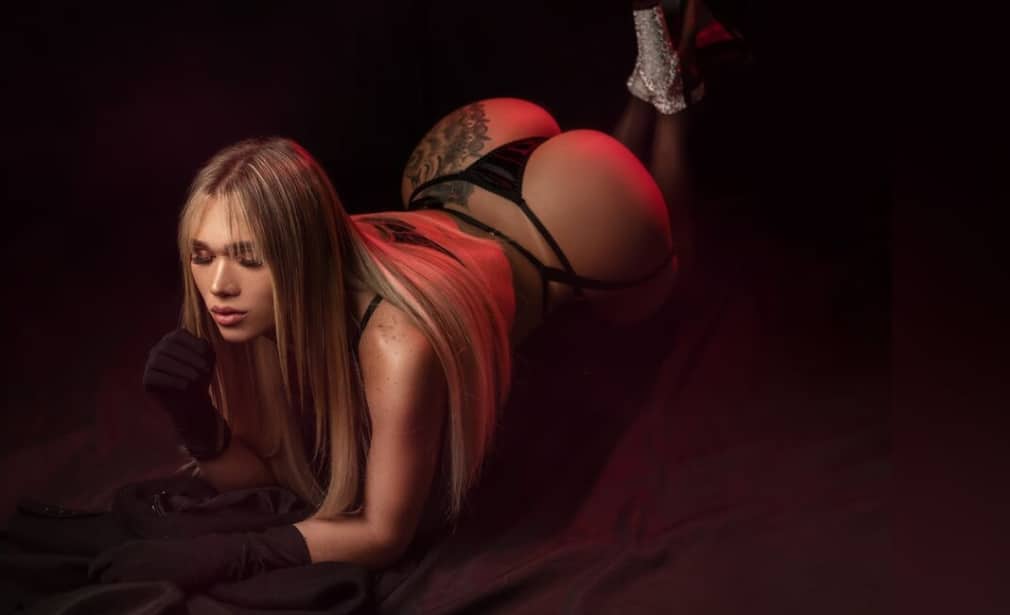 The man comes a little closer and stands about 3 meters away from me. Ouch. I see he has a big boner and his pants are stretched. I look nice and horny out of my eyes and wet my index and middle finger with my mouth. With the saliva I go over my butt hole and I gently slide the two fingers and a little bit in. My cock stands up stiffly. Damn. I can already feel it throbbing….hmmm. The man I see breathing heavily and squeezing his pants. He looks around a bit and steps right into the fitting room. Gives a tug on the curtain and stands with his back against the wall. "Turn around you" he says in a rather dominant tone. I turn the chair and sit facing him. My fingers out of my ass and sit obediently, but my cock is rock hard. "So…so you are horny and you obviously find it horny to show this to me too" he says. I say "Yes sir…actually I do". "Well…what are you waiting for then. Continue what you were doing." I put my heels back on the chair and sit down slightly so that my ass is clearly visible. I wet my fingers again and slide them into my deliciously smooth little hole. "Now you're going to finger yourself. Deeply. And you keep looking at me" he says. I slide my fingers as far as I can into my anus and go back and forth nice and steady.
My cock throbs and thumps. "Look at your cock. See what comes out of there" he said. I see that a lot of pre-cum is coming out. My whole glans is moist. He takes a step toward me takes my cock in his mouth. I feel how he sucks and goes slightly into my glans hole with his tongue and licks up the moisture. He continues to suck me. His hand massages my balls and goes up from there to knead my titties. Mm mm. I feel I'm already going to squirt, but he stops sucking. My cock swishes out of his mouth. He's soaking wet. He pulls my hand away, so my fingers plop out of my asshole. He looks at my hole and dives in with his tongue. Like a savage, he starts licking and sucking. Oh my god, how rough he is all of a sudden, but I find it buttery hot.
He is vigorously fucking me with his tongue. His hefty hand meanwhile grabs my cock and I am being firmly jerked off. He grabs me by my hips and slides me down a little further. He gets down on his knees in front of me. Lowers his pants and a deliciously long, firmly veined, cock jumps up. He spits on his cock, rubs it smooth and presses it against my fingered asshole. You look ready to be fucked to me." I nod yes. With some force, he pushes his cock into my asshole. As his big glans moves further inside me and once past my sphincter, I shiver with pleasure. Ooh, what a great feeling. He slides it right in up to his balls. I am completely filled. My ass squeezes his cock and with slow long strokes I am fucked. Almost all the way out and then all the way in again.
Mmmmm. My cock is rock hard and starts jerking right away. I let myself go nicely and don't hold back. After he pushes his cock deep inside me several times, I squirt without touching my cock. The seed comes on my legs, over my sack, over his cock which continues thrusting and over my belly. "Keep going" I say "please keep going." I see and feel him fucking me more firmly now. Also I see my still hard cock and moving back and forth. Little red glans with seed still spilling out. I run my fingers through my own cum and rub my breasts with it. I squeeze and twist my hard nipples nice and firm. Damn. So horny.
"Come here" I say, and I grab him by the back of his head, pull him toward me. We start tonguing each other vigorously as his thick, hard cock keeps thrusting into me. Yuck… I stay so horny, he…. I felt really slutty with that huge cock in my ass. His cock was going back and forth a little faster now. With each thrust, his balls slapped against mine. The cock in my ass began to slide back and forth faster and faster. I felt he was going to cum. I pulled him against me as I wanted to feel him squirt deep into my asshole. Then I felt a hot load of cum being squirted into my ass. Meanwhile, he kept on thrusting into my ass. Suddenly it became too much for me. From the depths of my balls I slowly felt my seed bubbling up and with full force I squirted a gigantic load of my hot seed all over my and his belly.
I had not often had such a violent orgasm before, and the amount of seed gushing from my cock was also much larger than usual. Completely out of breath, I lowered myself onto the couch, jerking off my aftershock cock nice and slow. My lover also kept pushing his sagging cock back and forth in my ass, a little languidly. Then I felt him pull his cock out of me. I suddenly felt empty. My ass was still slightly open and I felt his seed leaking out of my hole. He stood up and pulled his pants back up. He straightened his clothes so it wouldn't be noticeable what had happened. He said, "Thank you, slut. It was delicious, but now I have to get back to my wife." He moved the curtain aside and walked into the store. Leaving me satiated.
I stood up and put my skirt and shirt back on. I felt the seed from my ass running down the back of my legs. I decided not to wipe it away, but to go home that way. As I came out of the locker room and looked around, I saw a few people looking at me in surprise. Apparently it hadn't escaped their notice what had happened in there. Fulfilled and with blushes on my cheeks, I walked out of the store. On the street, I felt the wind blowing under my skirt. I had felt it as the wind blew directly into my hole. The jets of cum on my legs felt cool. Like clouds, I walked home. Meanwhile, I let the horny event go through my mind again. One thing I knew for sure. This was not the last time I would undertake something so horny. How delicious it is to be a horny transgender.