It has been said that life is full of surprises. A saying you usually live by until something surprising happens to you. I recently had one of those unexpected surprises. I have been coming to the same lingerie shop for years to keep my D cups in check. I know the women who work there well. And I always get pleasant service. A year ago they hired a new employee, Diana, and we clicked. I like getting help from her. Photo by ladyboy Kayla Dior.
---
Even though we have a connection, I always get a strange feeling when she helps me. She also has an unusual, somewhat unfeminine voice and not exactly a super-feminine body. I think her cup size is a small B. But she always helps me in a very pleasant way. Trying on a bra is an intimate experience. And Kayla always knows how to help me and touch me in a way that makes me feel very comfortable. Her touches often caused me a certain erotic excitement, even though I don't fall for women. When Kayla helped me, there was always a certain erotic tension in the air that I enjoyed, albeit with some suspicion.
I am 42 years old with a firm body, but I am single and have no qualms about touching with an erotic touch. The other day I came into the shop towards closing time. Not really to buy anything. Just to see what was there and what I might buy in the future. Even though I am single, I like to indulge myself in sexy lingerie. The idea that there is more under my clothes than my colleagues suspect or expect gives me a pleasant and exciting feeling. Kayla was still in the shop. Are you ready for something new again? She asked. No, not right away, I just wanted to see if you had anything exciting on offer. Have a look around. But you don't have much time, because we're closing soon.
I looked around and saw a beautiful red bra and matching panties. A set is offered at a steep discount. I was standing there with it in my hands when Kayla came over to tell me the shop was closing. But you still found something, I see. She hesitated for a moment. Tell you what. I'll close the shop so you can try something on in peace. How sweet of you. Because I won't have time tomorrow. Kayla closed the shop and I went to the back cabin. I took off my top. Anne, you have beautiful breasts, was Kayla's reaction as she poked her head through the curtain of the cubicle. Thank you. Your Ds could almost do without a bra. Yes, they still look good and delicious for my age, as some friends say.
And at home, I regularly go without a bra. But the support of a bra is nice for my hefty D-cup breasts. I stand in front of the mirror in my new red bra. Kayla is standing behind me. She lifts my breasts and shakes them a little. That looks good on you. She runs her hands over my breasts. And they fit perfectly. She massages my breasts a little. To my shock, I feel my nipples getting hard. That's what happens when you haven't had sex for a while, I thought. Kayla moved behind me and continued to massage my breasts. I found it delicious and let myself go. I had never been with a woman before but this made me deliciously horny. I could feel my pussy getting wet.
The ladyboy unhooked the bra and took it off.
She unhooked the bra and took it off. She put her hands on my breasts. I now had hard nipples and felt horny and aroused. She gently squeezed my nipples, which quickly became harder. She kissed me on the neck and sucked on my earlobes. It was delicious and horny. I enjoyed it thoroughly and was amazed at myself. I was willing to be seduced by a woman. I became aroused and pushed my bottom back. Kayla pressed herself against me. I even imagined feeling something hard, some kind of young lord. Can you imagine how horny I was and how great the need for sex was, as I imagined feeling cocks where there were none? But this feeling and thought disappeared as quickly as it had appeared.
Kayla was still standing behind me, she unzipped my skirt and pulled down my panties. And so I stood naked in front of the mirror in the fitting room with a horny saleswoman behind me groping and caressing me everywhere. By now, my pussy was deliciously wet. Kayla turned me over and started sucking on my nipples. I have sensitive nipples so waves of pleasure ran through my body. With one hand she stroked my back and bottom and with the other, she worked on my wet pussy. Kayla, how delicious, keep sucking and fingering me. Make me come. I spread my legs to give her hand-free access to my pussy.
Not a word was exchanged between us. Kayla worked on my horny body and I felt my orgasm coming. She sucked and bit my nipples hard. Her hand played with my pussy. Occasionally she pushed a few fingers inside and squeezed my swollen clit. Suddenly my orgasm exploded. My whole body shook with pleasure, my knees buckled and I struggled to stand. I was panting and moaning. yeah Kayla, go on, go on finger me cum, yeah I come. I come. I squeezed my legs together to feel Kayla's hand as hard as I could. I felt my pussy muscles contract in search of a delicious cock to squeeze, but alas. Wow, that was delicious cum. I have never been fingered by a woman before but it was fantastic. You can do that more often, Kayla.
Did you think it was delicious? Yes, delicious, I said and I really meant it. I have sensitive nipples, Kayla said, would you like to go down on me? I would love to finger you too! I said enthusiastically. No, that's not necessary, Kayla said startled, just finger me. I didn't understand that, but the customer is king, isn't he? I undressed her, and her B cups looked pitiful against my D cups. I leaned forward and began sucking on her nipples, which quickly became hard. Kayla moaned softly, "yeah, go on, go on. Bite gently, bite gently, suck me off. It was a delicious feeling to have those nipples in my mouth. Kayla willingly let herself be sucked to climax. Moaning and panting, she came.
I took her nipples in my mouth.
Go on, go on, I want it again. Again I took her hard nipples in my mouth, and again Kayla gasped and moaned to a shuddering orgasm. Her knees buckled as she came again violently. She collapsed against me, losing herself and gasping for breath. I ran my hand over her back and bottom. I could feel her heart pounding. She was shaking and staggering. I slid my hand under her to massage her pussy as well, giving her an unforgettable orgasm. Kayla was so far gone that I let go. Kayla was panting with pleasure and still enjoying the orgasm, she spread her legs and I pushed my hand between her thighs and I felt a rock-hard cock and balls … … …. I stiffened and Dian also came to her senses.
I was stunned. To recover, I sat down on the floor. Kayla came and sat down beside me, crying. Now you know why you were not allowed under my skirt. I didn't know what to say. I am a she-male, Kayla sobbed, but hardly anyone knows that, especially not here in the shop. I put my arm around her. Quiet, they won't hear about me. We talked a little more and gradually calmed down. I undressed Kayla and then stood in front of a man/woman with small, firm B tits and a half-slack, medium-sized cock.
This sight also made me horny again. I hugged Kayla, and we found ourselves in an endless tongue kiss. We rubbed our breasts together and our nipples got hard, my pussy got wet again, I felt Kayla's cock growing between our bellies. We enjoyed this embrace intensely. Kayla, do you want to fuck me? I am so horny and my pussy is wet and longing for your stiff cock. Please fuck me. I could tell Kayla was hesitating. Please darling, fuck me, let's enjoy each other and each other with your sweet cock. OK, because it's you and you ask so sweetly. But it must remain our secret. It is our secret and it will stay our secret. I bent over the small table in front of the dressing room and spread my legs. Kayla was standing behind me, bending over me. I felt her cock against my bottom and her hard nipples against my back.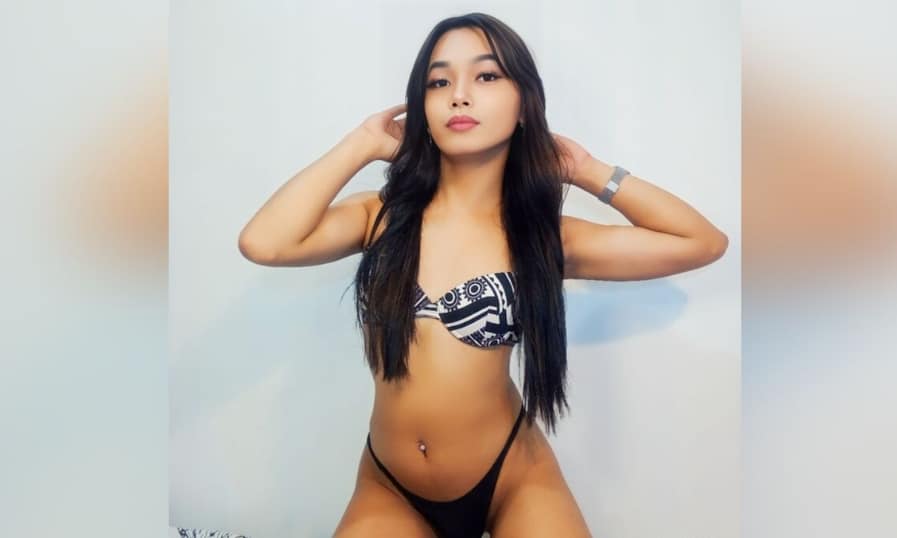 An amazing sensation went through my body, I tingled with pleasure. I put my hand back between her legs and grabbed her stiff cock and placed it against my wet pussy. Come inside me darling, fuck me, come inside me, I want to feel you. Slowly, Kayla pushed her manly cock into my longing cunt. She bent over me and cupped my tits. She squeezed and massaged and I felt her hard nipples on my back and her cock slowly penetrating me. Through all this, a slight orgasm was already coursing through my horny body. Nipples on my back, my tits massaged by a woman's hand and a cock in my pussy, all this was a sensational new experience for me. Kayla pushed her cock into me, I felt her balls against my labia.
She waited for a moment and then withdrew slowly. Until only her glans was left in my slit. She grabbed my hips and pushed her hard cock into me with all her might. I tensed my pussy spears so that I could feel her to the full. Kayla darling, fuck me, fuck me. This is so delicious and so horny, I can feel your she-male cock. Yeah, how delicious and horny. Fill me up. Yes darling, I will fuck you ready and fill you up. Oh, how delicious. Kayla continued to fuck at a steady pace and with each thrust, I felt my orgasm approaching. She fucked deliciously, not that heavy ramming like men often do. She relaxed deliciously in and out of my wet pussy, caressing my body in between. I was getting damn horny sometimes when I felt her breasts go over my back.
Yes Kayla, fuck me, fuck me delicious, I feel your delicious she-male cock. Annet, what a deliciously tight pussy you have. Darling, how delicious you fill me, I was panting. I'm coming, I'm coming, I'm coming. I pushed my bottom back and felt Kayla's cock even more deliciously inside me. Yes I come, I come, I come, I come. Kayla moaned. I felt the warm cum deep in my cunt. With every thrust of Kayla a shot of semen. She bent over me and leaned on my back. I felt her breasts and her beating heart. She cupped my tits and massaged them gently.
Wow, that was delicious! Slowly we came to ourselves. I felt Kayla's cock sliding out of my pussy. We turned around and tongued each other hard. My mouth stays closed, but my pussy lips are always open for you, was my reaction after this delicious turn. Thank you, Kayla sighed. We put our clothes back in order. I wanted to check out the lingerie set, but Kayla said, "I'll give you this as a souvenir of our first meeting. Because we were sure there would be more meetings to come.