A shemale feels like a woman after all, and aside from a penis, most can pass as one. Some shemales are even prettier than many women and therefore very exciting, so a lot of seed was squirted at my side.
---
I'm Aaron from Oslo. Photo from TS Violet. This story happened during a visit to Colombia. A year after I had my first experience with a strap-on, I of course haven't sat still in the meantime. I had several one-night stands, but satisfying my ass remained a bit of a taboo. You can usually tell when having sex with a woman if she is a bit open-minded and/or if you dare to ask. Every time I dared to ask, the answer was negative. Too bad, but unfortunately.
At home, of course, I still continued to masturbate while watching those good-looking webcam shemales and I began to use my ass more and more in this game. If the desire is not fulfilled during sex, then during masturbation, right? As time went by, you start pushing your limits again. Strapon movies started to become more and more shemale movies, and although I found it a bit gay in the beginning, I thought "what the hell" later on.
A shemale feels like a woman after all, and aside from a penis, most can pass as one. Some shemales are even prettier than many women and therefore very exciting, so a lot of seed was squirted at my side.
Time passed, and I went looking for a pub or a place where shemales came, and wanted to see if they were as beautiful in the Netherlands as they are on the internet. After some searching and googling, I found an address and drove there on Friday night. When I entered the place, I was amazed.
Beautiful shemales were chatting with women and men
Beautiful shemales were chatting with women and men, all very quiet and relaxed. Sometimes you had to look carefully whether it was a woman or a shemale and sometimes they had the stubble on their face, a full evening's game. While I was playing my game at the bar, I felt something wet against my back. Damn, I thought, another guy who is drunk and spills some beer again. I turned around a little angry and looked straight into the eyes of a nice girl. I was actually a little shocked because I was angry but quickly looked more polite.
She apologized and I said, "Can happen, luckily it's a pretty woman and not a drunk guy". Of course she liked this and we got to talking. Her name was Chantal and she had come here with a friend. I was naturally curious and asked what she was doing here in this "shemale" club. It turned out that this was her friend and I spontaneously said, "Oh? Nice!". After some flirting from my side, Chantal started to flirt a bit back and I thought: "I'm going to a shemale bar, I end up in bed with a woman again haha" in itself a funny thought.
As the evening progressed we became freer and freer and after some dancing, our mouths touched. She kissed quite wildly and grabbed me immediately by my ass, she said: "if you say more sweet things I'll take you home, so beware! I laughed of course and said "you are the most beautiful woman I have seen in ages, and your ass is to write home about haha". This probably hit home because within half an hour I was in the car with her.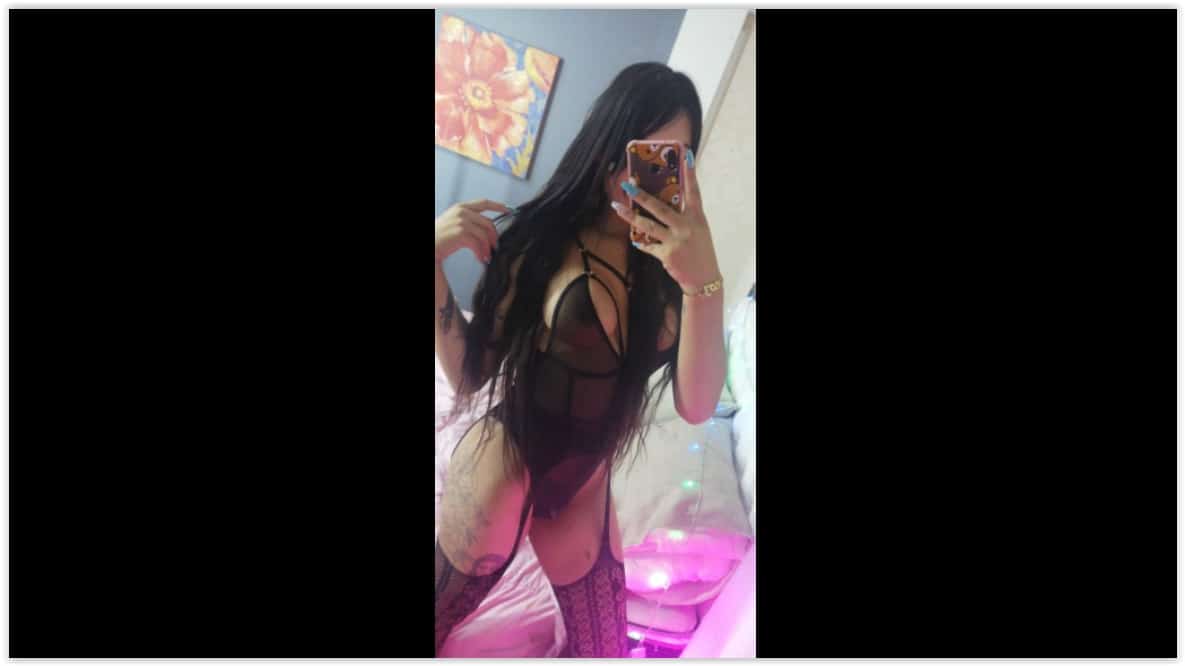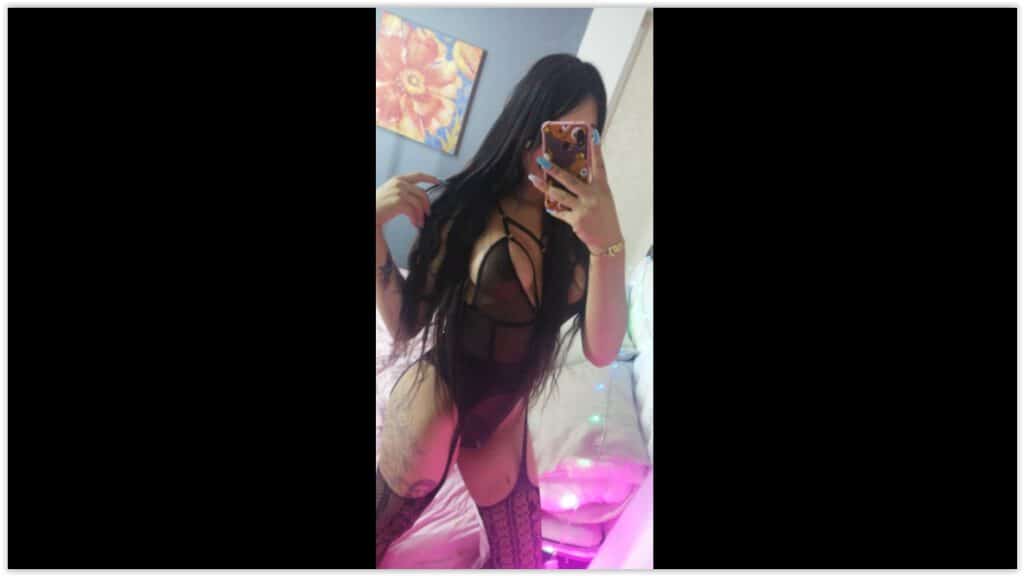 Once we got home we continued on the couch where we left off in the pub and tongued a lot. She took off my t-shirt in no time and sat on my lap dry-humping my dick. Of course this horny stuff made me super stiff, especially when she said: "Oooh I feel something nice pressing against my ass". I grabbed her buttocks and said, "I have a bunch of ridiculously beautiful buttocks in my hands" and squeezed them nice and hard. She groaned and began to open my fly.
After she opened my pants, her tongue made its way down, through my nipples, and slurped my hard-on nicely inside. She moaned that it was good and this put me at ease. She made my hard-on nice and wet by spitting on it a few times and then took it deep into her throat. She went at it like a pro and I had to make an effort not to squirt right down her throat.
While she was at it, I pulled up her sweatshirt and freed her breasts from her simple but super exciting bra (a white one made of fabric that showed a lot of contours of her nipples). She was definitely a big C or a small D, so exactly 2 hands full haha. She continued sucking me for another minute and then sat back on my lap, giving me free rein over her breasts right away. Lick like Lassie they always say, well I did haha. She started sighing and moaning and said: "Oh how nice you lick my nipples and what a nice cock you have".
She grabbed it and started to gently pull on it again
She grabbed it and started to gently pull on it again. She sighed very deeply and then stepped off me and sat down next to me. She said, "Do you really think I'm pretty?". I agreed wholeheartedly and said that she really was the most beautiful woman I had seen in ages. She said, "That's sweet, but you know….that friend who was with me". I immediately said, "Oh yeah, I haven't seen that one at all!". She said: "No, that's right because I was alone". It took a while to sink in, but 5 seconds later 1 and 1 became 2.
I said: "So you are a shemale?" and shyly she said yes.
I was a bit shocked because I was not prepared for this. I quickly recovered because I could see it wouldn't be long before she would run out of the room. I asked her if I could feel and with a brief nod of agreement I put my hand on my pants. My open-minded thoughts took over and with a small smile began to tongue her again and rub her pants nice and slowly. I felt the joy as my tongue was almost sucked in. She was getting very hard and felt that she had a bigger penis than me. I opened her pants and saw her happy face. I began
quietly, step by step as I had to get used to the thought. I began to play on her nipples again with my tongue, and quietly picked up her penis from her hipster. By the way, just as sexy as her bra. I began to gently jerk her off and it just got bigger and bigger. At least 20 cm and half a times thicker. I said, "You're big headed for a horribly delicious woman haha". She giggled and said, "That doesn't mean you don't have a nice cock nice thing". I found this rather flattering and this gave me the boost to go for it!
I slowly moved down and kissed the tip of her penis.
I felt her breathing quicken and her hips shoot up slightly. This was the starting signal and I began to suck her wildly. I didn't know exactly what to do at all just did what I would enjoy myself. Seemingly it was to her liking and she began to thrust and moan even harder. This went on for a few minutes until she told me to stop or she would cum. I said, "Then you're out of luck" and continued at an even faster pace. She moaned even louder and screamed that she was going to come. Then I felt, for the first time in my life seed shoot into my mouth and it was quite scary I must say. I held it in my mouth and swallowed it in one go. She laughed and asked, "What was it like, the first time you had semen in your mouth?"
I said it wasn't that bad and it was kind of hot. She hugged me and grabbed my penis hard and said, "your turn will come soon, I have to get ready first". I also got up and followed her and she looked at me funny: "I'm going to clean myself up a little bit so you can fuck me in a minute". I said "yes but I have to be clean then too right?" she looked at me surprised but very happy and said "can I be with you too then?" I said "of course only I don't know if I will get something that big in my ass". She reassured me and said she would go easy on me, while almost jumping a hole in the air.
After we both took a moment to rinse our butts, we ended up on her latex bed. We tongued fiercely and she took my hard-on in her hand again. After some pulling my penis was back to full war strength and she went to her nightstand to grab lube. As she did so she turned her ass towards me and I saw my chance. I turned her onto her stomach and put my mouth on her buttocks. She moaned and asked, "what are you doing now?" and I said "I'm going to give your ass a good licking". She said "my luck can't run out tonight!". I started with her buttocks but soon my tongue was halfway up her ass.
I would never do this if the person was not clean but it had been 15 min since we had rinsed it clean. Moaning and getting stiff again she said I could fuck her. I took her lube and put it on my penis. I put my penis against her ass and slowly pressed harder and harder. This was apparently too slow for her because she went up in 1 go and pressed her ass against my penis. She moaned loudly and started to jerk herself off. I pulled her hand away and did it myself. With some lube I also let her penis slip nicely between my fingers and put some lube on her hand. She asked me what she should do and I told her to finger me.
With my penis stimulated in her ass, her penis through my hand and 3 fingers in my ass we fucked like animals. I said that at this rate I was going to come soon and she said, "Then you're out of luck" and she pounded her ass back even harder and pushed a fourth finger in. This became too much for me and with a big moan I squirted a big load of cum up her ass.
We plopped down next to each other and she started fingering her ass and licking off fingers. She looked at me hotly, dropped a long string of cum into her mouth. When her mouth contained all the cum from her ass, she looked at me even hornier and came down on me. We tongued me the cum between our mouths and made my penis sting again.
She sat down between my legs and grabbed the lube
Then she sat down between my legs and grabbed the lube, with this she began to lubricate her penis and my ass well and then grabbed my legs firmly. She pushed my legs up so that my ass was wide open and her penis had free access. Her four fingers had had an effect because my ass was wide open.
Still it was not that easy because that huge penis caused some resistance. Fortunately, after 5 seconds I could completely relax and her thick and long penis flopped inside me. This made me so horny that my penis became rock hard and because she had seen this she said: "Do you like it that much, my horny kinky boy? I nodded and she took my penis.
She started to jerk me off hard and fucked harder and harder. At one point she took it out completely and then rammed it back in hard. This felt very horny and also felt a bit like a victory because I had crossed a boundary again haha. After a few minutes of hard fucking she called out that she had to cum and I said: "You may choose". She had chosen quickly because she said right away, "I want you to finger me with four fingers while I fuck your mouth".
I nodded, and she pushed her penis deep into my throat. I knew this was a horny feeling for her because I like that too. I gagged a few times before I felt the seed shoot back down my throat. She said, "keep it in your mouth and don't swallow!". I kept it in my mouth and meanwhile I was sucked hard and she made me cum deep in her throat within 2 minutes. Toning with our cum and our gaping asses we later stepped into the shower and fell asleep blissfully. The following morning, we did it all over again and exchanged each other's numbers. A night never to forget!