This is a submitted naughty story about Tgirl Anna. The photos are from her. You can see much more of Anna Medina.
I went to bed quite excited. My tgirl sister-in-law Anna came to visit. And she is special, she was my brother-in-law until 5 years ago! Anna has become a girl. And a very pretty one, my wife had a little trouble with it at first. From little brother to sister.
So we haven't seen her for at least five years. Not surprising, since she lives in Paris, which is not exactly next door to us. When she joined us last night and I greeted her with a hug that I thought was a little too long, I was immediately deeply impressed by her again. I have often thought that I made the wrong choice when I married my wife. Anyway, Anna is at least eight years younger than my wife and she was always helpful. She was busy talking, helping her sister set the table, and all I could do was enjoy her appearance. She wore tight black leggings and I enjoyed her delicious ass. Especially when she bent over with her back to me and took something out of her overnight bag. I almost got too angry at that moment… The next day I got up early and when I opened my eyes I heard a little rumbling in the kitchen. I looked over and saw that my wife was still sleeping.
This could only mean one thing, my sister-in-law was already wide awake and had gone downstairs. I cautiously slipped out of bed and went downstairs in my shorts and saw Anna standing there in her nightgown. She was busy making breakfast. "Good morning, girl," I said to her familiarly. Thinking now or never, I took her in my arms for a moment to greet her and gave her a kiss on the cheek. She pressed her scantily clad body against mine and, to my surprise, kissed me back hard. This time I did not let go of her like yesterday and stroked her back to just above her buttocks. It was really natural. Much easier than I had ever dreamed. So I was not ashamed to press my stiff cock against her tight underbelly. We stopped talking and without words, we tongued each other passionately as I now kneaded her buttocks. Anna pushed her hand between us and slid her fingers into my apron, taking my erection in her hand.
My Tgirl sister-in-law Anna is so sexy!
She moaned in approval. Almost dizzy from the kiss she gave me, I felt a terrible horny feeling in my body as she began to gently pull me down in my shorts with her soft hand. Then she let me go and looked at me closely. "Come into the guest room Frank. I want to make love to you," she panted softly. I cupped her full breasts for a moment and felt her nipples turn into a pair of hard buds under the fabric of her thin nightgown. She was as horny as I was… Unfortunately, our horny desires drew a line in the sand. We heard my wife coming down the stairs. I quickly kissed Anna again. "We're going to have to put it off a little longer honey," I told her disappointedly. Anna sighed deeply and pulled her hand out of my panties. She was as sorry as I thought she was. "Then I'm going to take a shower honey. I can hardly wait to feel your hard cock inside me…" With a challenging twirl of her ass, she walked out of the kitchen to meet my wife…. Anna kissed her and disappeared upstairs. My wife looked at me quizzically as she came into the kitchen. She pointed to my crotch. "Did my horny sister touch your cock?" she asked a little grumpy. I immediately turned red and quickly sat up.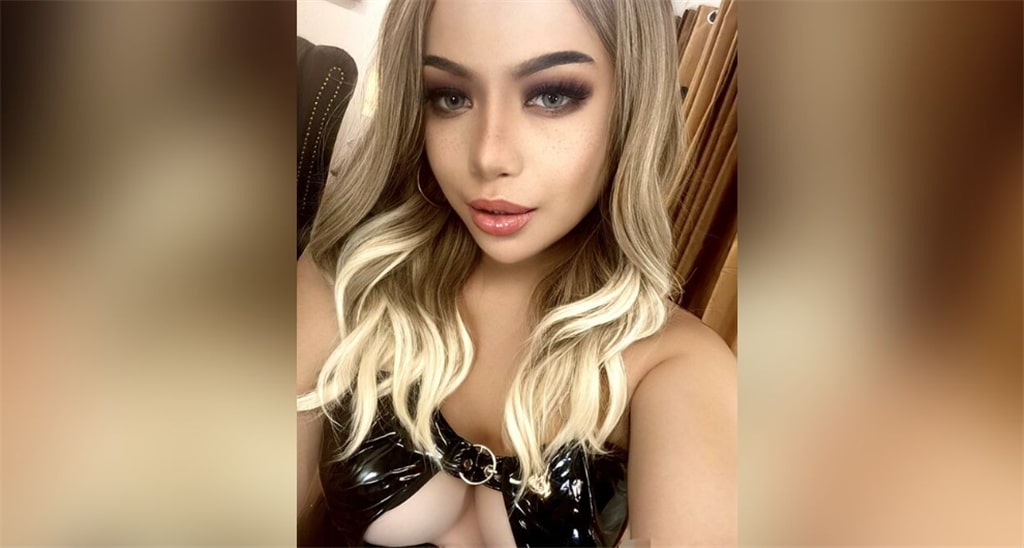 She knew she had us, too. "Don't hide it from me," she continued. "I really noticed that you guys have been looking at each other all the time since she got here, do you think my tgirl sister is so special? Is my pussy not good enough for you anymore and you want to lick her penis?" She joined me and lowered her panties. "Look at this man. Maybe it will be the last time if you continue like this with my tgirl sister. Or maybe you want us both? Both at the same time?" I shrugged and looked at her beautiful, clean-shaven slit. It would be a shame if I couldn't touch it anymore and put my desires for her sister aside for a moment. "It's also your own fault, Evelyne. Lately you don't touch me with a finger. Not like you used to. Do you remember that sometimes you were so horny that you even let me fuck you in your asshole? Do you think it's weird that I like your sister?" I put my hand against her pussy and stroked it a little. My wife looked at me hornily when she felt me push a finger inside her. "That's because the last one is always the same, Frank. You lick me and then you ram your dick into me as fast as you can until you come. I'd like something different, but I don't know what." I now pushed my fingers deep into her pussy as fast as I could. I could feel her getting wetter and wetter. "You don't have much imagination anymore, honey," I said excitedly. "We used to go to the park and do crazy, daring and exciting things outside. And when was the last time we made love on the couch? It's been a long time. And when I unexpectedly want to give you a turn, you always scream, "Not now, because I'm tired!" "OOoh yeah, but not now, man, now I'm horny. But you are right. Lately it has become a rut with no excitement. We are going to change that for a while."
My wife cleared the kitchen table and lay down on it, spreading her labia. "Do you think this is horny enough?" she moaned. She allowed me to see the pink interior of her slit. Her fuck hole was open and ready to be filled. "Come fuck me with your big dick Frank. You don't have to fuck me. I'm so horny, I could come on your cock in a second if you put it in." I pulled my shorts off my ass and stood in front of her. I slid my hands under her sweater and pushed her bra up so I could feel her tits and pulled hard on her stiff nipples. My cock found its way by itself and with a hard thrust I pushed it all the way up to my balls in her pussy. Evelyne, my wife, let out a scream. A loud scream. I don't know why, because she was never that loud before.
Maybe she wanted Anna to hear that she was getting a big fuck? "Yes, yes, fuck me hard, Frank," she moaned loudly. "Do it hard. As hard as you can." I squeezed her tits rock hard and pulled on her nipples. When she wanted a big fuck, she got it hard. I was still a little mad at her and thought that at this point I would actually prefer that Anna was lying there instead of my own wife. My wife braced herself and pulled her legs up, she was now moaning loudly with her mouth open, staring at the ceiling as I pumped my cock faster and faster and deeper into her pussy. I felt my orgasm coming and at that moment I felt her pussy muscles contract around the shaft of my hard cock. "ooooooohhh yesaah, fill me!!!" she cried hornily. And with a scream we both came at the same time. I put my hand on her stomach as I watched her squeeze my cum out of her pussy. "Are you satisfied now Frank? Do you need my sister now, do you want her penis in your little mouth?" my wife asked me.
I want to watch you fuck another woman.
I shook my head and remembered her warning. Suppose I grabbed her sister and really got caught, I lost that too, I thought. I silently hoped that she would get as horny as before. "You can have her once from me. But then I want to be there. I want to watch you fuck another woman who seems so horny to me. And just do what I want you to do, because that warning still applies." I looked at her in surprise. Cheating while she watches? While she herself is there? I didn't really like the idea, but if she let me spoil Anna's pussy like that, it was okay with me. "Do you think your sister would like it too?" Evelyne looked at me with a wicked smile. "Probably not, but if I catch you at the right time when you're doing her? Then she can't go back. And I think she wants your cock so much that she probably won't stop if you let her play with it.
Don't you think?" I wasn't sure, but it was easy to try…. X-X-X-X-X-X I felt like a traitor for letting Anna walk into the horny little trap Evelyne had set for us when she slammed the front door behind her. My wife was so horny that she wanted to implement her idea right away. Anna, who had also heard someone leaving, came downstairs. She had put on my robe and looked at me curiously. "Is my sister gone, Frank? Are we finally alone?" I opened the robe and saw that she had nothing underneath. "Yes, dear, we are alone. Evelyne won't be back for a while. She is at a friend's house to pick up something she lent. We don't have to hurry." I stroked her beautiful naked breasts and kissed her passionately. Anna took my hand and put it between her legs. Then she gently squeezed my cock, which she pulled out along a tube in my underwear.
She moaned softly with her tongue in my mouth as I began to finger her. "What a beautiful girl you are," I told her as I stopped kissing her. I lowered my knees a little and kissed her nipples, taking turns licking them. I slowly licked my way down her belly to her Venus mound and sat down in front of her. Anna, who understood what I was up to, spread her legs a bit so that I could caress her pussy with my mouth. As I pushed my tongue between her labia, the kitchen door opened with a bang and Evelyne stepped inside. "What the fuck are you doing?" she yelled loudly. "What is this?" She pretended to be startled when she saw her sister lying on the table with her legs spread. Anna quickly closed the robe and I looked at my wife who saw my cock sticking out of my briefs. "Were you planning to fuck my slutty sister Frank?"
She pointed at her sister. "And you Anna? Why aren't you dressed yet? Did he lick your pussy?" Anna recovered from the shock faster than I expected. She opened the robe and let it slide off her shoulders and fall to the floor. We were caught now anyway. "He licked me wonderfully, Evelyne. He's doing a great job." She was now rubbing her own slit. Anna was so horny that she couldn't hold it in anymore. She didn't care about us anymore and started fingering herself. "Help my sister Frank. Now finish what you were doing," my wife said. "Lick that bitch until she cums." She pushed a chair over and sat down while I sat back down in front of Anna who was lying on the kitchen table. With my tongue I worked the juicy slit of her sister who lay moaning in front of me, pressing my head firmly against her pussy. "Is he nice, Anna? Is he doing his best?" I heard my wife ask. "Oh yeah great," the horny one moaned.
Anna moaned loudly as I worked her sensitive bud with the tip of my tongue, she had eaten fish and I could still smell it on her deliciously scented tgirl glans. I squeezed her buttocks tightly and felt that she was about to come. "Does her ass taste as good as mine, Frank?" asked Evelyne. I could only make a sound of agreement. My mouth was now filled with the moisture from Anna's slit. She began to moan louder and louder until she finally came shockingly. As I stood up, I pulled off my panties. My stiff cock was sticking out. I saw that Evelyne had her hand in her panties and was looking at me horny. Anna got off the table and took my boner in her hand. She stroked my balls and took my dripping glans in her mouth. Then she did something I never expected and neither did my wife. We both watched as she took inch by inch of my erection into her mouth until she reached my belly and without blinking she swallowed my cock. "My God Anna. Are you taking it all the way in your mouth now? Is his glans in your throat hole?" my wife asked a little shocked and full of wonder. Anna said nothing but nodded with her mouth full. What an awesome feeling that was. I had never experienced this before. My wife, who like me was deeply impressed and getting hornier, unzipped her panties and spread her legs. Now she was fingering herself and watching her sister's exploits. "If you keep this up I will come down your throat baby!" she moaned as she started to move her head a little faster.
Anna stopped and looked at me. "We can't have that, Frank. Can he fuck me, Evelyne?" she asked my wife. She nodded in agreement. "Go ahead. Just fuck hard Frank, let her feel your thick long cock deep in her ass." I saw that she was now starting to put two fingers into her own slit at the same time. "Come on honey," I said to Anna, pointing to the table. "Sit on that and I'll give you a treat." Anna sat down with her buttocks on the edge of the table and looked excitedly at my throbbing cock. She took it in her hand and aimed it at her wet slit. "Take it easy Frank," she panted. "Let me enjoy it too before you come." When my glans was between her labia, I slowly pushed my hard-on into her. Evelyne followed closely, moaning. She got up and stood next to me. "Come Frank, finger my ass while you fuck her," she panted.
Anna closed her eyes and enjoyed my gentle thrusts into her asshole. She massaged her beautiful full breasts herself. "Has he got a nice cock, sis? Horny staff, huh? I know what's happening to you now that he's deep inside you. He has fucked me many times with that hard cock. Is it narrower than my slit, Frank? Do you like her ass?" All three of us were heartbroken by my wife's words. "You can fuck her a little faster now, Frank," she continued. "According to her, she can easily have him!!!" So Anna could. She was the first of us to come. She lay there screaming as I pushed my cock into her faster and faster. Evelyne pushed my hand away and took it from me, she stood bent over and rubbed her ass hard and when I came with one last hard thrust, and jerking on her cock, into Anna's slit she came too. I filled Anna's warm, wet cunt with a scream.
We spent the rest of the day relaxing. I noticed to my wife that fortunately there was no more jealousy. From time to time I kissed Anna, who was always close to me, and there were no disapproving looks when I did so. "What did you think, honey, about me doing it with your sister?" I asked when I had a moment alone with my wife. "It was a horny sight to see that thick long shaft of yours sliding back and forth in her slit Frank, it was exactly how I imagined it." "You really didn't mind?" She shook her head and grabbed my crotch. "It was my idea, wasn't it?
I want to do it with her tonight. I mean, take turns fucking each other. Maybe I can get her to let me touch her too." I looked at her in surprise. I never thought she would be interested in a woman. I had never heard her talk about it before. "What do you mean another time?" "Why do you think I was okay with you grabbing Anna? When we lived at home, we used to touch each other's pussies for fun. But it wasn't really intense. We didn't go as far as coming. It was more like let me see yours and you can look at mine. Then it was more of a joke than really playing with each other. But I saw that she still has a nice tight pussy. Tighter than mine." She gave me a kiss. "You don't mind if I try?" I shrugged and tried to answer a little casually, saying that if she wanted to, she could do it. Secretly, it seemed like a super hot idea and I wondered if Anna would agree. I kissed Evelyne and unbuttoned her blouse. "Actually, I find it strange that you're dressed again after our lovemaking," I told her. "Come unbutton your blouse. Maybe Anna will do it too. You look so beautiful and she doesn't visit so often. Let's enjoy it. Besides, you used to do that on weekends when we first lived together, didn't you?" Evelyne sighed deeply and stroked her bare tits. "You're right, and when Anna's back home I'll do it more often." Thank God, I thought. There will be a little life again. Anna came back into the room and saw Evelyne's naked milking. "Mmm big sister. Are you horny again, I must say I like that look.
To be honest, I've always been a little jealous of your breasts. Especially because they are so heavy and sag a little. It's a sexy face." I took Evelyne's tits in my hands and gently pulled on her nipples. "Yes, they are beautiful, huh, why don't you expose your breasts as well? We are alone and there is really no one to look in or disturb us." "If you like that, that's fine with me," she said. She took off her sweatshirt and unhooked her bra. "Ooh yeah, that's much better," I said. "I never thought it would be so nice to have two pairs of tits in front of you," I laughed. "I get to sit on them, right?" The girls supported their breasts and took turns pressing them against my face for a moment so I could suck on their nipples for a moment. When I let go of them, Evelyne pressed her tits against Anna's, who looked at her smiling. "Mmm yours are nice and soft Anna. Does that make you a little horny too?" asked Evelyne. Anna's face tightened a little.
She took Evelyne's tits in her hands and stroked them a little. "Do you mind? I've always wanted to do that with a woman, but I never dared." "Me too," said my wife. Now they began to feel each other's tits and they did not hold back any longer. I stood up to give them a little more room, so I wouldn't get in the way. It wasn't long before they dared to go a step further and I saw them spreading their legs and feeling each other's pussies. To help them a little, I took off their panties so they could feel each other even better. They didn't need much encouragement. Anna sat down and spread her labia, looking at Evelyne hornily. "Come big sister. Would you lick me a little with your tongue? I have such an itch on my pussy now. Please help me." My wife sat down in front of her and looked at me, stroking Anna's tight flat stomach for a moment. "Shall I do it Frank? Shall I taste her horny ass for a moment?" I sat down next to her so I could see everything clearly and gently squeezed her buttocks and briefly stroked her pussy.
I could feel that Evelyne was soaking wet between her legs. "Yes, dear. You can taste her juices. Anna really needs to be licked by the sound of it." I saw my wife stick out her tongue and touch her sister's labia. "Stick your long tongue into her pussy hole too, Evelyne. Lick her juice a little." Anna moaned softly as she felt the tip of her sensitive fuck hole touch her. I saw my wife swallow as she pressed her face against Anna's pussy as hard as she could to get the moisture from her slit into her mouth. "Oooh yeah, move your tongue inside my pussy. Oooo that's how you make me very horny Evelyne," Anna moaned. My wife got the hang of it and feasted on her sister's soft slit until she came with a scream on her tongue. Evelyne watched Anna's wet slit as she lay trembling after her orgasm. "Did I do it right Anna?" "Oh God yes, I haven't come so deliciously many times," she moaned a little after. But now I want to spoil you with my tongue. I think I owe you that. The girls swapped slices and now it was Anna's turn to spoil her sister. "What a nice ass you have, Evelyne," she said as she sat in front of her. "I never thought it would be so exciting to see a woman so close. Your labia are even slightly open. I'm going to take a moment to feel what it's like to push a finger into your wet slit." Anna moistened her fingers with the moisture from her own pussy and slowly inserted two fingers into my wife's asshole. I decided to help them and grabbed my wife's ankles, holding her legs up and spread as wide as possible. By the looks of it, Evelyne was getting wetter and wetter now that she was open.
When Anna started to finger her a little harder, her ass made a wet sound. "Mmm, how beautifully wide you are, Evelyne," Anna gasped with effort. I saw that she was now inserting three fingers at a time into my wife's slit, who was moaning loudly. She began to move her fingers faster and faster. Evelyne had lost it and was screaming loudly. I saw the moisture spurting out of her asshole and I urged Anna on. "OOh Anna faster girl. Put all your fingers in your sister's piss horny ass!!!" I shouted loudly. Evelyne could easily do it now that Anna was forcing almost the whole hand into her swollen slit. "OOh my ass, ooo my ass," Evelyne screamed. By the looks of it, she was coming hard now. She spread her legs. Moisture spurted from her slit as Anna pulled her hand out of her asshole. I had never seen my wife cum so wildly… Anna kissed Evelyne's ass, which was still shaking a little on the couch. I squeezed her buttocks while she was still in front of me and pulled them apart. Gently I pressed my glans against her starlet. Anna obediently stayed in front of me as I increased the pressure on her asshole with my cock. She moaned softly as I pushed the tip of my hard-on into her. Her tight little hole yielded easily. She must have done this before, I thought. Evelyne came and sat down beside us and saw what I was doing to her sister.
I started to fuck the moaning pretty girl at a slow pace with long strokes. Evelyne now took my balls in her hand and began to gently massage them while I fucked her sister. "What a horny sight that is, Frank, now that I see you filling Anna's tight little hole. Is it feeling tight around your cock?" "Oh God yes. It is so delicious." Evelyne gently slapped her free hand on Anna's buttocks as she moaned and enjoyed my stiff cock. I felt her sphincter tighten around my cock and began to pick up the pace until I came deep in Anna's ass. After a quick shower, we decided to spend the night in bed, the three of us. Unfortunately, Anna had to go back to Paris and after an emotional goodbye, we promised to visit her as soon as possible….