I had been looking and writing about them on this site for long time as a regular writer, those beautiful, very feminine-looking ladyboys. Unfortunately, I live in a part of the world where Asian Trans persons are very scarce. But an adult web meeting brought the solution.
---
My preference is mainly the Asian trans woman, or ladyboys. Some Latinas are also very beautiful, while the Northern European Transwomen often still have a very masculine appearance, they fall off as of interest. The pigeonhole stage of heterosexual or homosexual is a long-passed station, I thought. It's mainly about the curiosity and feminine impulse they give off. The ladyboy in the photo is the subject of this story and the love I met at an adult webmaster show.
It took six months after the first webcam encounter and during a trip to the Philippines for a first webmaster meeting, I walked slowly and somewhat timidly through the city. It had long been clear to me that a chance encounter with a ladyboy was very possible. A fellow German visitor who was traveling with me already warned me of what could happen…. In the hotel I met the first one, she was standing at the reception, a déjà vu shot into my mind. After some good thinking I knew, she was also a webcam lady. Her name was Magnificent_Trans (Monica) and how beautiful she was, both in real life and in front of the camera. This trans babe was invited to the show and I spoke to her. Somewhat excited and with a twinkle in her eye she told me about her work. I told her that she was an old acquaintance to me and that I often watched shows.
She had gotten a bit firm, at least behind her webcam it wasn't as visible. The meeting lasted two days, so I had plenty of time to meet. It was a long conversation over dinner about her origins, her dreams and future plans, after two hours of chatting she was making a move to go home, but I asked if she would join me for a tour of her town. The beverage bill was mine. It was a warm evening and the traffic struck me as chaotic, lots of honking and smelly scooters.
Fortunately, she had a shortcut to her favorite café where many NATO soldiers also came. I actually had no intention of making physical contact with her at all, yet she tried to take my hand as we walked. A little startled, I looked aside but melted away into her warm shining eyes and wide smile. The dinner had used the requisite Red Horse Beer and that stuff was quite strong. All counter-arguments didn't do the trick and the feeling of freedom was far stronger than holding her back. And what could it hurt, she felt like a woman. I grabbed her hand and together we walked through the city.
Text continues after the photo.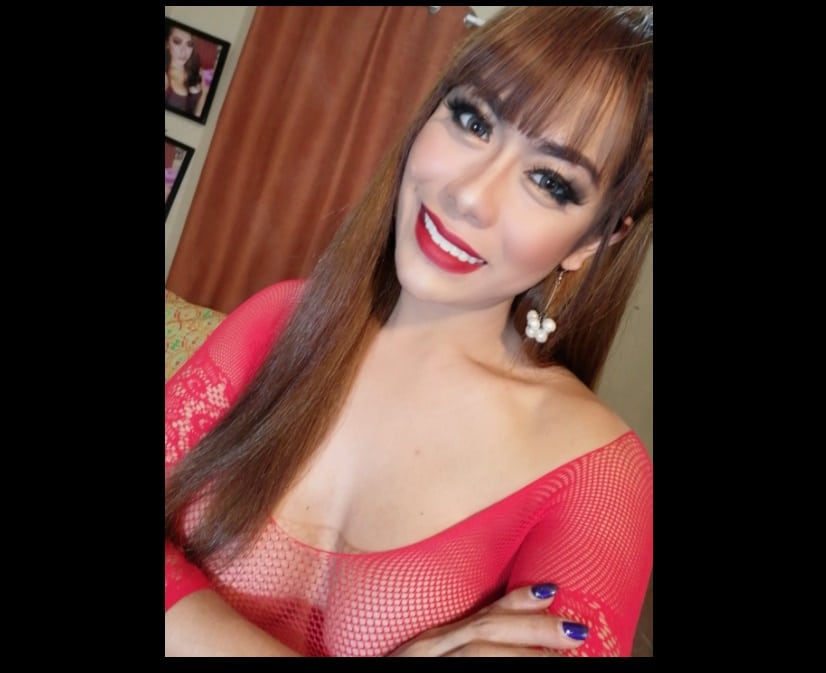 After the necessary café visits and the many conversations with other adult meeting visitors, it was clear to me that they had a lot of freedom to have all the experiences. And then especially sexually… I had had it though and wanted to go back to the hotel, but Magnificent_Trans stayed by my side, as if we were already a couple. She told me she wanted to go home, before I could say "then you do that" I thought about why I didn't just walk with her. Fortunately, she said it herself and offered to ask a cab friend to take me to the hotel afterwards. When I arrived at the apartment, she pulled me inside and told me to wait for the cab.
She went to change clothes, while I was waiting in a small room. But man, she came back. Wearing only a bikini in the colors of the American flag. Triumphantly, she showed off her clothes and bikini. Her large breasts were hard to contain. Monica lit up a cigarette and was now much freer, without hesitation she kissed me full on the mouth and grabbed my cock which by now was quite swollen. "You have to sleep here, my friend is sick", she said with a smile. Still somewhat reluctant and completely ignoring what she was doing I agreed. That was the impetus for her to open my pants, and quickly she pulled my clothes down. My swollen hard cock jumped up, facing freedom. Not only that, my mental freedom was even greater. All inhibitions were gone.
I turned her around and pulled down her panties, with my left hand I grabbed her cock and immediately started milking her (she hadn't had sex surgery yet). My fingers groped her ass and I tried to penetrate, not so fast, Monica called out. I told her how horribly beautiful she was and how horny she made me. "That's good, now suck my cock" she said softly. I had never had a cock in my mouth before and sputtered against it, but Monica had little patience and pushed her wet cock into my mouth. After vigorous thrusts on my uvula, she quickly withdrew and threw me on my back on her couch. She was strong but drop-dead gorgeous and her lovely big tits danced with every move. The moment to suck on those tits presented itself as my cock hardened again. She had so much sexual attraction for me.
The horny ladyboy lowered her head and began to suck my cock. Damn, how good she was. All my horniness had to come out. "Give me yogurt," she said with her mouth full. After a few minutes, I squirted a full jet of cum into her little mouth. Thinking we were done was wrong. She turned me around, it was clear to me that she wanted to fuck anally. On that yellow bed (top photo) came my intimate very strong ladyboy moment. She lubricated my ass with lube and carefully placed her Asian cock in front of my opening, the moment of penetration was intense.
To my mind I was stuck on the couch and couldn't move. Monica thrust deep into me and after two minutes of intense moaning and falling drops of sweat she released her load. We stood up after a few minutes and in an infinite embrace I held her, drops of her precious femininity came to my feet. How nice she smelled, and what a beautiful feminine face she had with wide hips. I couldn't live without her, just the ideal partner. I melted every time I saw, smelled or felt her. The following evenings we spent kissing, sweating and fucking. And she went with me to the meeting every day, fortunately, she is now by my side for a month while writing this story. The webcam work she still does and when we are not together I get a free show. Honey, I'm doing you.