My name is Falko, I am 25 years old. I am 1,90 m tall and have short red hair and blue eyes. I am single and work as a national lorry driver. I work during the week and am free at weekends. At the end of this week, I would have two weeks' holiday. I had already booked a holiday some time ago. I looked specifically for singles holidays. There were quite a few, mostly to Spain and Italy. Photo with transgirl Gia.
---
But I didn't want to go there, it was too touristy. There was a single trip to Prague. It was an eight-day full board trip. We went by bus, I booked the trip. But now I was in the truck, I was looking forward to the holiday, it was Wednesday afternoon. Time seemed to fly, but luckily it was Friday afternoon. I parked my truck by the lake. I said goodbye to my colleagues, and they wished me a happy holiday. I drove home and packed the rest of my suitcase because I had to get up early the next day, the bus left at six. I went to bed early and was woken by my alarm clock, freshened up, got dressed, and put the last things in my suitcase. I had some breakfast and then I left and arrived at the boarding point on time, it took five minutes for the bus to arrive.
We drove past other boarding points and then to the transfer point near Osnabrück. There we got some food and were able to pack a lunch. Whatever was recommended, the journey would take more than seven and a half hours. There was a stop on the way to stretch our legs. We ate and packed our lunches. An announcement was made as to where each bus was going. I had to get on bus nine, which went to Prague. I got to the bus first so I could have a good look at who was coming. I sat in the middle of the bus, which could only take twenty-nine people. The bus was quite full, there were twenty-four people on the bus. There were only four women on the bus and they were filled up pretty quickly.
I have to find a nice woman.
Still, I thought, I'll find a nice woman there. The journey took a long time, luckily I had an mp3 player with me. When we finally got to the hotel. We went in and were shown to our rooms. I put my suitcase in my room and freshened up a bit. Then I went down to the dining room. I had a quick dinner there and then went into town for a while. It was a nice evening, but I didn't score and then I went back to the hotel. I went to bed and woke up late the next morning. I had a shower, got dressed, and went back to the dining room. They were serving lunch now, but I don't mind as long as I get something to eat. After that I visited Prague, I like the history of the city. At the end of the afternoon, I went back to the hotel and had dinner. Then I went to the hotel bar. I ordered a beer and sat quietly for a while. At about 7.30 pm two slender ladies came in.
They had obviously not come on the bus. They were two Czech ladies, quite small. The blonde lady was about 1.60 m tall, I guessed. The brunette was a little taller, I guessed about 5'4″. They walked over to the other side of the bar and sat down opposite me. They took off their coats, they had tight jumpers on their breasts, and they stood out nicely. Furthermore, they were not too tall, I guessed about a B/C cup. They ordered drinks occasionally, and I looked at them. They drank their drinks, they clearly noticed me looking at them from time to time. It had also become a bit busier, and now I noticed that the ladies were being spoken to. But they waved away every man I saw, thinking I didn't stand a chance with them anyway.
Just as I was thinking that, a beer was placed in front of me. I looked at the barman and he said yes from the ladies over there. He pointed in the direction of the ladies. I looked at them and thanked them, the blonde waved me over. That I should join them, I did. When I arrived I introduced myself as Falko. They introduced themselves, the blonde was Anoushka and the brunette was Gia. They lived here in Prague and asked me where I was from. I told them I was from Bremen in Germany and we spoke English.
I asked them how old they were, they were both 23, I told them my age. They asked me what I did, I told them what I did. I asked them what they did, they usually worked in a bar, but tonight they were free. We had a few more drinks and a nice chat. Then Anoushka suggested we go to another bar. They knew another really nice bar. I said that was fine, there wasn't much to do here anyway. We got up, put our coats on, and went outside. I had already had a good look at them in the bar and had a pretty good idea of their heights. Anoushka was 1.61 metres tall and had beautiful brown eyes. Gia was 5'4″ and also had pretty brown eyes. Outside I offered each of the ladies an elbow through which they each slipped an arm.
After a 15-minute walk, I read "Sex Bar".
Anoushka led the way and after a 15-minute walk, we arrived. There was a big neon sign on the front. It said "Sex Bar" and when I looked at the ladies, they said, "Don't you want this? Delicious hot here and then delicious with us. I was up for it and agreed to go in with them. We went to the door and there was another sign that said. Free drinks if you perform live on stage. Not everyone will be able to perform due to their own performance. We went in and it looked like one of those saloons. Only with nice leather benches. There was also a stage where a man and a woman were fucking. The stage had a slowly rotating disc three metres in diameter. It was quite crowded, only at the back were seats available. We sat down there and still had a good view of the stage. The woman was lying with her belly on some kind of cushion. Behind her was a man fucking her from behind. The pane was covered with soft black leather, probably with cushions underneath. Now you could see better where he was fucking, he was not fucking her in the pussy.
We ordered some drinks when it was put on the table. I saw three beers on the table and also a price list of the drinks. A beer was the cheapest here, converted to euros it was nine euros a glass. I had some money with me, but the evening would not last long here. But that was for later, now I was enjoying the show. The woman was clearly enjoying herself when another man came on stage. He already had a hard-on and sat in front of the woman and let her suck him. They went on like this for about half an hour. Suddenly I felt two hands rubbing my thigh. I looked at Anoushka and Gia, they were smiling hornily. I toasted them, and they drank their beer in one gulp. And when I ordered something more expensive, a bottle of champagne arrived at the table. I knew I couldn't afford it, they had me good. Gia saw me looking a bit startled and came over to me.
I told her I didn't think I had enough money for it. Then she said you can get it for free here, you just have to do a show. And looked at me horribly, what do you think about me and Anoushka, would you like that? I had my doubts at first, but I was already horny and that overcame it. I said that's fine, I just said it. And Gia stood in the direction where you could register. Meanwhile, I watched the show again while they were still on. I saw that the two men were busy getting ready. When they had finished, Gia had just returned and whispered in my ear that everything was settled. She sat down again and said are you enjoying the show deliciously, I nodded yes. She rubbed my thigh again, and Anoushka was still busy. The men had squirted out and removed their limp cocks from her holes. Then the lady stood up and my mouth fell open in astonishment.
This woman did not have a pussy, but a huge cock that was now stiff and in front of her. It was a super horny sight as she sat back down on the cushion. The man who had come in last. Now he went to her and turned his ass towards the cock. And sat on it and started to ride the cock. This was a super horny sight and Anoushka and Gia were now rubbing my crotch too. My cock was stuck in my trousers, Gia hadn't said anything. But Anoushka knew only too well what was about to happen. But now I was also watching the she-male and how she was fucking him. It didn't take her long to come. She shot him full when she was out and her cock slackened. When she had taken him out they stood up and the other man joined them. They bowed and got a lot of applause.
Then they went to their dressing room at the back of the stage. Now a spotlight started to shine over the audience. It stopped right where we were sitting and an announcement was made in English. These people are doing a live show for us tonight. Come down and start, but Gia looked at me horribly and stood up. She grabbed my hand and pulled me up hand in hand and we walked down the stairs, followed by Anoushka. On the way down, I thought that Anoushka and Gia would be different too. The thought made me even hornier as we walked onto the stage. There I was completely undressed by Anoushka and Gia. They told me to sit on the cushion, which I did. Anoushka and Gia started to kiss each other and they started to undress each other. Until they were down to their panties, then they approached me. They both got on their knees in front of me, and they both looked at my stiff clean-shaven cock that is 16.5 by 3.5 centimetres. They both started kissing and sucking on my thighs.
They both moved towards my crotch as they kissed and sucked. When they got to my cock, Anoushka started sucking and Gia started licking and sucking my balls deliciously. They were really fantastic with me. Gia had no trouble taking my cock all the way into her mouth. She sucked me really well, her tongue licked deliciously along my shaft and over my glans. Gia was deliciously busy with my balls but also licked over my starlet from time to time. Then the roles were reversed, Gia now started to suck me and Anoushka now started to lick over my starlet. Anoushka stuck her tongue in my hole and started fucking me with her tongue. As soon as she did that, Gia started sucking me harder. It didn't take long for me to come and I squirted five thick jets of cum into Gia's mouth. Gia didn't swallow it, she caught it all in her mouth.
Anoushka stood up and pushed me onto my back on the pillow. Then she pulled off her panties right in front of my face and my suspicions were confirmed. She had a delicious cock instead and a delicious pussy. She stood in front of me and started to play with her stiff cock. Gia started to lick my starlet and smeared my cum all over it. When she had me well lubricated, she waved Anoushka over. Gia still had enough cum in her mouth to lubricate Anoushka's cock. She did this and gave her a great blowjob. Then Gia stopped, Anoushka's cock was quite wet from my cum. Anoushka then sat down between my legs and spread them further apart. She put her glans against my starlet and slowly pushed it in. Anoushka came to stand in front of me and also took off her panties. They were both clean-shaven and their dicks were stiff.
The two ladies had a big one.
Later I was told how big they were, Anoushka had a cock of 15 by 3 centimetres and Gia's cock was 17 by 4 centimetres. Gia put her glans in front of my mouth and I opened it. She put her cock in my mouth and started to suck it. The audience watched us intently. Anoushka's cock went in easily. I am bisexual and have had my hole fucked before. Anoushka also noticed that I was used to having a cock in my ass. She began to thrust more firmly into my hole. As I lay with my head down I got Gia's cock three-quarters of the way into my mouth. She removed her cock from my mouth and I had to lower my head further. When my mouth and throat were aligned like a sword swallow. She put her cock back in front of my mouth. She pushed it in until it was completely in my mouth. I was now deep-throating her for the first time. Sometimes I choked a little.
But soon I got used to this delicious cock and sucked it deliciously. In this way I was taken by Anoushka and Gia, by now my cock had become stiff again. Anoushka grabbed my cock and started pulling it out as she fucked me. I started sucking Gia's cock harder and we were busy for quite a while. Then I felt Gia's cock swell and she came deliciously in my mouth. Her cock was so deep in my mouth that she squirted her cum into my stomach. At the last jets she pulled her cock back far enough to squirt some into my mouth too. I tasted her delicious cum and then Anoushka came too. She also squirted a nice load of cum into my hole. This and the way Anoushka pulled on my cock was too much for me. I came again, spurting all over my belly. Their cocks relaxed and they took them out of my holes. As a reward, they both licked my stomach clean and then we stood up. We got amazing applause from the audience. Then we got dressed again and went back to our place.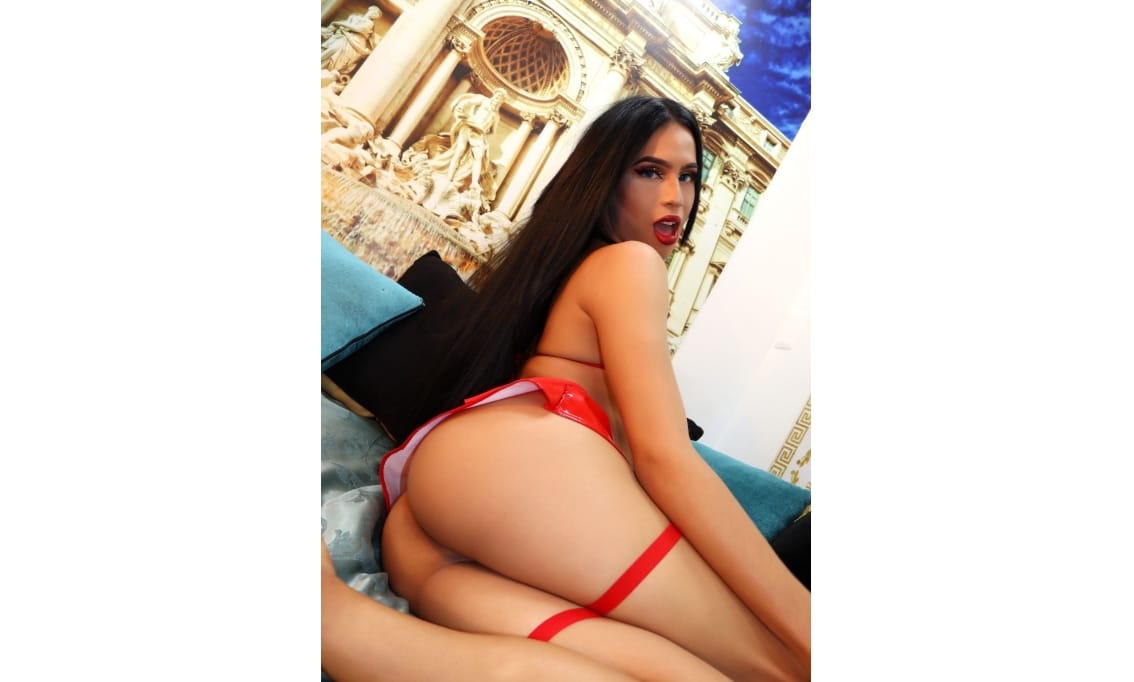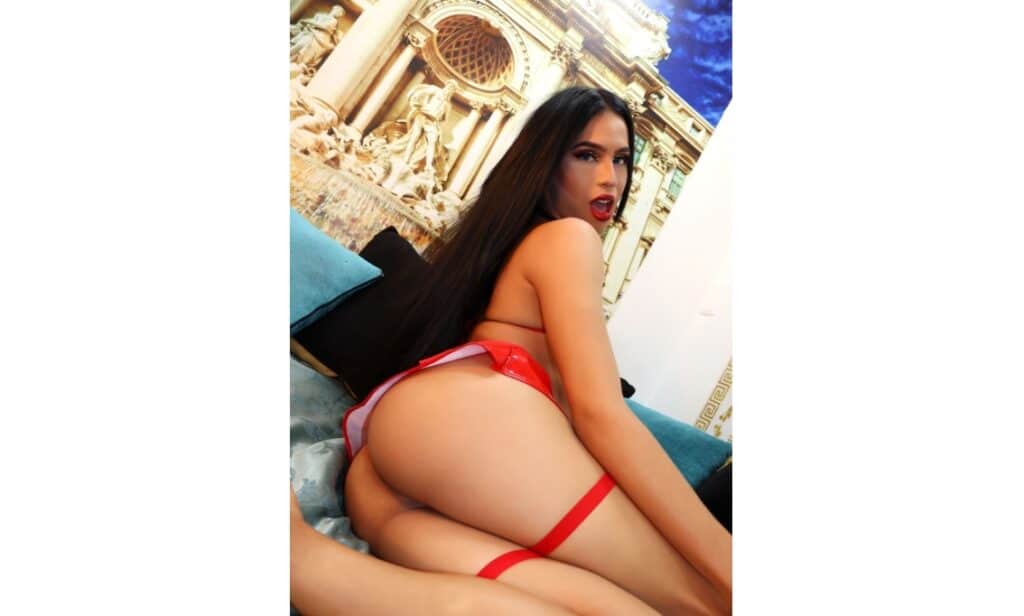 We sat down again, poured some champagne, toasted, and drank the whole glass in one go. The next show had already started, this time it was two ladies playing with each other. We didn't really follow it, we talked to each other. Anoushka told me that they usually work here. Gia said afterward that we didn't work behind the bar but on stage. That's why our turn came so quickly. We enjoyed the passing shows. We finished two bottles of champagne, which were now free. They cost up to one hundred and fifty euros a bottle. The hours went by, then the spotlight went back on the audience. Then there was a call for those who wanted to do another show for us. The light went over the audience and nobody signed up. I got horny again and raised my hand. The light immediately came towards us and we were illuminated again.
I got up first and pulled Anoushka and Gia up and we went down again. Before entering the stage I asked one of the workers for a stool. I got it and put it next to the cushion, then we quickly got undressed. Now I took the initiative and put Gia on the stool and put Anoushka on her back on the cushion. I sat down between Anoushka's legs and started kissing her on her thigh. As we kissed I moved to her cock and balls. First I started licking over her balls, every now and then I took her balls in my mouth and started sucking on them. Then I licked along her shaft to her glans. I opened my mouth and took her cock in my mouth and started sucking it deliciously. After being like this with her for a while, I crawled into the sixty-nine position while sucking. I offered my cock to Anoushka and she began to suck me eagerly. I stopped for a moment and told Anoushka not to swallow my cum.
Then I started sucking her again, fingering her hole as I sucked. She did the same to me and we brought each other to a delicious orgasm. Anoushka was the first to come, she squirted her delicious cum into my mouth. I swallowed it all and then came deliciously in her mouth. She didn't swallow, so I got off her and stood up. I made Anoushka get up too and then I went over to Gia. I made her get up too and led her to the pillow and laid her on her back. Then I went back to Anoushka and told her to start licking my starlet. And smear her with my own sperm, she had to leave enough for her cocks too. Then I got on my knees between Gia's legs. I started sucking her and Anoushka sat down behind me and started licking and lubricating my starlet. When that was done I stopped sucking and Anoushka spilled some cum from her mouth onto Gia's cock. She lubricated it well and then I crawled over Gia's cock. And guided it to my starlet and lowered myself over it all at once and began to ride her. I made Anoushka stand with her cock in front of my mouth. I took her limp cock in my mouth and started sucking it again. Anoushka still had some cum in her mouth.
When I had sucked her dick hard I stopped and told her to lubricate her dick as well. She did, and then I said to her, I want your cock there too. I want you to fuck me at the same time. Anoushka stood behind me and pushed her cock in and my starlet was really stretched. Now there were two cocks in my hole, it was a delicious feeling. My cock was also stiff again, Gia grabbed it and started to pull me off. I grabbed her nipples with my thumbs and forefingers and rolled her nipples between them. Anoushka grabbed my nipples and started to knead them. I enjoyed it and so did Anoushka and Gia. We stayed like this for a while when Anoushka and Gia came. They squirted so much that their sperm came out of my hole. It was too much for me and I came again. I squirted my cum all over Gia's stomach and breasts.
Then they took their limp cocks out of my hole, and Anoushka and I licked Gia clean. Then we stood up and got another standing ovation, we got dressed again and went back to our place. We sat there for a while and Gia said they had to work again tomorrow. And asked if I wanted to join them. I agreed and Gia said you have to come through the back. There is a porter there, tell him you are coming to see Gia and he will know enough. We drank the last of the champagne and left. When we got to my hotel we said goodbye. Then I went to my bedroom and in the evening I went back to that bar. I spent the whole holiday there, getting fucked by Gia and Anoushka. I fucked them too and we got great reactions every time. I now know where I am going to spend my holidays, and I have a lot of email contact with Gia and Anoushka. They want to spend their holidays with me. Luckily, I have enough overtime to get time off for that.