I would like to share with you what happened to me 3 years ago. Unintentional love with my best friend.
---
I am Miranda, 29 years old, single and transgender. Afke is 36 years old and married. We have been heart friends for years. We share all our thoughts with each other, and Afke has supported me through thick and thin in times when I was having a very hard time. I can say that I have experienced many ups and downs. The outside world sometimes has a hard time dealing with the fact that I am transgender.

Afke doesn't care and is always there for me. She is like a sister to me, and we have a lot of fun together. One time we had had a little too much to drink and she wanted to see exactly what I looked like underneath. She had never seen me completely naked before. I then undressed. I stood in front of her with my limp cock right in front of her nose.
On impulse, she grabbed my cock.
On impulse, she grabbed my cock. It reacted immediately and swelled considerably. I liked it, but she was shocked and started to apologize. That she shouldn't have done that. She was married and we were best friends. I reassured her by saying that I didn't mind and that we didn't have to keep secrets from each other.
We didn't talk about it again after that. Later in bed I thought about it again. What might have happened if Afke hadn't been married and we could have let ourselves go. Secretly, I had hoped for a little of that. While fantasizing that it was Afke who was touching me, I began to massage my cock and caress my breasts. I was busy with myself for a long time and finally I came deliciously.

Between Afke and me, that incident did not come up again. Our relationship had never suffered. We remained best friends and often came together. Either at my place or at Afke and her husband's place. By now, it has been two years since it happened.
I am a big fan of the Golden Earring and I saw that they were giving a concert in Amsterdam. I asked Afke if she wanted to come along. She was immediately excited and I managed to get two tickets. Now the concert was on a Saturday night and since it was quite a distance from where we live, I asked her if she wanted to make a weekend of it.

I would book a hotel room and cover the costs to thank her for her support over the years during my difficult moments. At first she objected and wanted to share the costs, but eventually she admitted that she thought it was very sweet of me. She wanted to go away with me for the weekend. We agreed that we would leave by train on Friday afternoon. That way we could have dinner in Amsterdam that evening and possibly go out a bit. On Saturday, we wanted to do some shopping and sit on a terrace before going to the concert. On Sunday, we would return home after breakfast.

Then the day came. Friday afternoon at 2pm we got on the train. It promised to be a beautiful weekend with lovely summer weather. We had both put on a light dress that came halfway up our thighs. We also had a suitcase with some clothes and toiletries. Only the most necessary so as not to have to carry too much. We were both in a good mood and somewhat excited about the upcoming concert.

The trip took about an hour. We both looked great, and we saw the men in our compartment looking at us. It hadn't escaped the attention of Afke either, and she flirted with them a bit. She confided in me that at times like this she regretted being married, because otherwise she would know. However, she would never want to cheat on her husband. Not a hair on her head would think of that, but she didn't mind turning the men on a little. That made her horny too. Her husband would benefit from that too. Getting hungry outside and eating at home, she called that. I had to laugh about it and happily joined her.

When we arrived in Amsterdam, we only had to walk fifteen minutes to our hotel. I had booked a double room with a large double bed. As best friends, we could sleep in 1 bed. Afke didn't think that was a problem either.
We freshened up and went into town. We walked through the center and got the necessary attention from the men. We flirted cheerfully back. Afke sighed again that she still regretted being married and that she would know otherwise. From what I had heard of her over the years, she had been quite a horny bugger in the past with the necessary bed partners.

Now she was monogamous. We went out to dinner at a cozy restaurant and had a great meal. We had taken a bottle of wine with us and it went down completely. Eventually we stepped outside, a bit rosy. It was only 10am and we didn't feel like going to the hotel yet. We walked through the center and saw a cafe with good music. It was full and it looked cozy. We went in and wriggled our way through the crowd. You could stand there alone. Everyone stood close together.

We ordered drinks and talked to each other, constantly shouting into each other's ears to make ourselves understood. People were also singing along with the music. A group of young men stood near us and tried to attract our attention. Afke got into a conversation with them and I joined them. We were regularly offered a drink by the men, and we loosened up more and more.
At one point we were all blaring along with the music with the men's arms around us.
---

I felt a hard cock against my buttocks and I rubbed against it unabashedly. Afke bent down to me and said, "I feel a stiff cock against my butt. It's making me horny. " I said that it did the same to me and that I could tell from her eyes that she was horny. By now it was getting very late and Afke suggested we go to the hotel, before she started doing things she would regret later.

I thought it was a pity and by now I had become so horny that I would have liked to let myself go with these beautiful men, but I didn't want to get her in trouble. We thanked the men for the pleasant evening and stepped outside, quite tipsy. We put our arms around each other's waists and staggered to the hotel, which fortunately was not far away. Once there, we quickly brushed our teeth, put on our nightgowns and crawled under the comforter. We fell asleep almost immediately.
The next morning something sliding over my hard cock.

The next morning I woke up feeling something sliding over my hard cock. At first, I thought I was dreaming and decided to stay and enjoy it for a while. I often wake up in the morning with a hard one. This is a well-known phenomenon among men, and as a transgender man I also had to deal with it.

Although I didn't find it a burden, because I regularly started the day by spoiling myself and always came off deliciously.
However, I noticed that I was no longer asleep and that Afke was rubbing her buttocks against my cock, which by now was sticking out of my panties. In our sleep we had become spoon-fed where I had put my arm around her and my hand was on her chest. I felt my cock slide through Afke's buttocks. I heard her breathing heavily.

From the sound of it she was busy with her hand pampering her pussy. It made me incredibly horny. I had fantasized about this, but it could never happen since she would never cheat on her husband. We had always agreed on that too. We were heart friends and not lovers.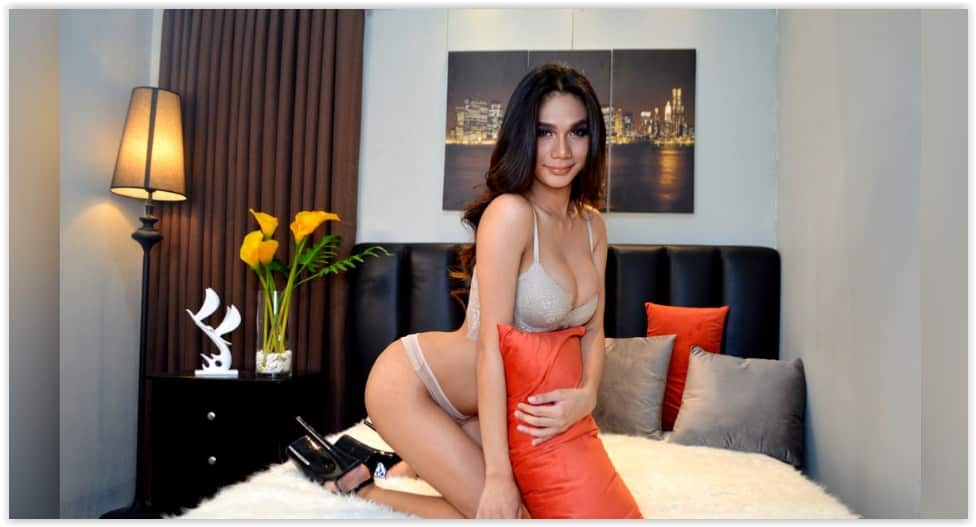 I decided to pretend I was still asleep and wait and see what would happen next. I did begin to rotate my hips a bit and put my hand a little more firmly around her chest. I made some moaning sounds to pretend I was dreaming and felt my cock slide between her buttocks. She was wearing a thong, so I felt flesh on flesh.

I left the initiative with my girlfriend as my cock became more and more exposed through her rubbing. I felt Afke move a little and noticed that she was taking off her thong. Meanwhile, I rubbed her breast and felt how her nipple was hard. She sighed loudly. I think she had become extremely horny and couldn't be held back. She changed position so that my cock was between her labia. I could feel she was soaking wet. She gently pushed her buttocks back and slowly slid my cock into her pussy. She let out a deep sigh. Apparently, she thought I was still asleep. Carefully, she began to move her hips and fuck herself with my cock.

I decided to join her and held her a little tighter. I began to move my hips with her. Thus, at one point we were fucking with all our might. She couldn't possibly think I was asleep now, but she obviously didn't care anymore. She had crossed a threshold and was thoroughly enjoying it. She began to stimulate me. Not only that, but she cried out, "Oh yes, dear. Fuck me. Fill me up." I whispered in her ear, "Oh sweetheart. What a wonderful way to wake up.

"You don't know half how many times I have dreamed of this. What a nice pussy and breasts you have".
She turned her head towards me and brought her lips to mine. I pressed my mouth to hers and a moment later we were kissing passionately. Our tongues swirled around each other. We were unstoppable. I felt her pussy spasm around my cock. She was cumming. I rammed my cock as deep as I could into her and a moment later I filled her pussy with my seed.

Satisfied, we stayed like that for a while and were still kissing each other. I think she had been longing for this as much as I had. I heard her sigh, "Holy shit. That was so good. My cock was still in her pussy. Slowly it got smaller and finally slipped out of her slit a wave of cum came after it.

We were still spooning. Afke didn't dare look at me, as if ashamed that she had let herself go like that.
She whispered, "Geez. How delicious that was. I never thought I'd ever do this, but I've been fantasizing about this for a long time. " I said, "Honey. This was a wonderful wake-up call and not the last time as far as I'm concerned. You can trust me. What happens in Amsterdam, stays in Amsterdam. "

That was a wonderful start to our weekend. The rest was yet to begin. And we would have to talk.